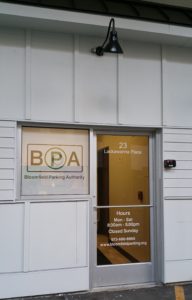 Mission & Responsibilities Statement
The Bloomfield Parking Authority (BPA) will maintain, improve and operate customer-focused public parking and promote economic growth and redevelopment throughout Bloomfield for the benefit of residents, businesses and visitors in an efficient and fiscally responsible manner.
BPA is committed to fair and impartial parking enforcement and evolving Bloomfield's use of new payment technologies to accommodate its customers. The Authority also strives to be a community partner by actively promoting local initiatives such as in Restaurant Week, Harvest Fest and Free Holiday Shopping.
BPA is dedicated to improving communication with residents, parking authority staff and township officials and encouraging input from residents and customers on parking improvements and changes.  BPA will responsibly and fairly handle customer complaints and inquiries.
BOARD OF PARKING COMMISSIONERS
Chairperson – Nicole A. Williams
Vice Chairperson – Peter Tom
Commissioner – Cheryl McCants
Commissioner – Robert DeMarino
Commissioner – Thomas Heaney
Commissioner – Vincent Mesolella
Commissioner – Michael Salinas

COUNSEL
Joseph P. Baumann, Esq., McManimon,Scotland, & Baumann, L.L.C.
Kevin P. McManimon, Esq., McManimon,Scotland, & Baumann, L.L.C.
AUDITOR
Steven Wielkotz, CPA, RMA, Ferraioli, Wielkotz,Cerullo & Cuva, P.A.
PARKING CONSULTANT
Leonard T. Bier, Bier Associates, L.L.C.
Gerry Giosa, Level G Associates, L.L.C.
ACCOUNTANT
Edge Business Allianz, L.L.C.
PUBLIC RELATIONS CONSULTANT
Keith Furlong, Gateway Media
STAFF
Administrative Assistant – Gianella Narvaez
Enforcement Supervisor – Zoe Toye
Parking Enforcement Officer – Tyisha Gordon
Parking Enforcement Officer – Doug Rubin
Maintenance Technician – Gerard Pray
Maintenance Technician – Anthony Piacenza