12 HOUR METER PARKING
Please refer to map for locations
LOCATION

RATE

ENFORCEMENT TIMES

Bloomfield Ave. Lot

25¢@20 min

7 am – 7 pm Monday to Saturday

Burroughs Place

25¢@20 min

8 am – 6 pm Daily (Mon. – Sat.)
8 am – 9 pm Monday and Friday

Glenwood Ave (both sides, past trestle)

25¢@15 min

8 am – 6 pm Daily (Mon. – Sat.)
8 am – 9 pm Monday and Friday

 Lackawanna Plaza
25¢@15 min

7 am – 7 pm Monday to Saturday

 Pitt St. Lot

25¢@20 min

8 am – 6 pm Monday to Saturday

 Royal Theater Lot

25¢@15 min

 7 am – 7 pm Monday to Saturday

Westinghouse Plaza

25¢@15 min

8 am – 6 pm Daily (Mon. – Sat.)
8 am – 9 pm Monday and Friday   

Conger Street (parkside)

25¢@15 min

7 am – 7 pm Monday to Saturday
SHORT TERM METER LOT PARKING
Please refer to

map

for locations  
LOT

RATE

ENFORCEMENT TIMES

Conger St Lot

25¢@20 min

Two Hour Parking 8 am – 6 pm
Monday to Saturday

Farrand Annex Lot#10

25¢@20 min

Two Hour Parking 8 am – 6 pm
Monday to Saturday

Royal Lot

25¢@20 min

Two Hour Parking 8 am – 6 pm
Monday to Saturday

State St. Lot

25¢@20 min

Three Hour Parking 8 am – 6 pm
Monday to Saturday
ONSTREET METERED PARKING
 Please refer to the Maps of Facilities for the location and parking times of all on street metered parking.  All rates are clearly stated on the label inside the meterhead dome. For your convenience, you may pay for your parking meter using ParkMobile. 
---
PAY, DISPLAY & GO
How to use Metric Parking Machines 
(Bloomfield Ave. Lot and Conger St. Lot)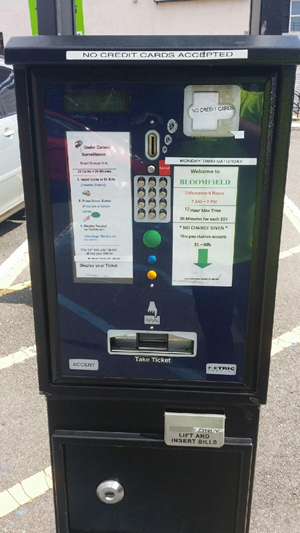 Step 1:  Pay for desire time: Bills, quarters, nickels, and dimes
Step 2:  Push green button.
Step 3:  Display Parking Ticket Stub on vehicle's dashboard.